Robyn to perform at Oya festival 2010!
Robyn is to perform at this year's Oya festival in Oslo, Norway on 13th August 2010. For more info go to: http://www.oyafestivalen.com/ Buy tickets from: http://www.billettservice.no/html/browse.htmI?l=NO&TOUR=OYAFESTI
Robyn to perform at Roskilde 2010!
Robyn is confirmed to perform at this year's Roskilde festival on Saturday 3rd July. Venue                    Arena@ Roskilde Festival Town                     Roskilde, Denmark Date                      3rd July 2010 Tickets can be purchased from: http://www.roskilde-festival.dk/uk/tickets/ Billetlugen's hotline by telephone: (+45) 70 263 267 or on e-mail:...
Best video nominees: Norwegian Grammy Awards →
The 5 nominees for "best video" at Spellemannprisen (Norwegian Grammy Awards) have now been announced, and 'The Girl And The Robot is one of them! Click here to head to the website to vote online! In Norway? Vote by SMS: Send M5 to 26400 (NOK 5,- per vote, at national rates)  Vote by phone: Dial +47 829 49115 (NOK 5,- per vote, at national rates)
Robyn wins Style icon of the decade at the Swedish... →
She experiments and creates new fashion combinations and dare try hairstyles which then becomes a trend-setter. She is not afraid to be unique.
Robyn & Spank Rock Freak Out Swedish Awards Show →
Three Robyn tracks named in Swedish radio's...
1. I'm Alive (Andreas Carlsson, Kristian Lundin) Inspelad av Céline Dion 2. It's My Life (Jon Bon Jovi, Richie Sambora, Max Martin) Inspelad av Bon Jovi 3. Come Along (Joakim Berg, Peter Svensson) Inspelad av Titiyo 4. Keep This Fire Burning (Remee, Ulf Lindström, Johan Ekhé, Robyn Carlsson) Inspelad av Robyn 5. FF (Martin Sköld, Sami Sirviö, Markus Mustonen, Joakim Berg, H Mänty,...
Today Robyn was rewarded with STIM Guitar Platinum
Today Robyn was rewarded with STIM Guitar Platinum. Robyn became a member of STIM back in 1995 at age 16 - the same year as her big hit Do You Really Want Me (Show Respect) was released. The breakthrough in the U.S. came in 1997 with Do You Know (What It Takes) and Show Me Love. In 2002 Robyn released her third album, Don't Stop the Music, from which both the title track and Keep This Fire...
I remixed my favorite el perro del mar song...
I remixed my favorite el perro del mar song "change of heart". Free download here: http://bit.ly/5rqow6
Watch
Coco's new video featuring Robyn!! I Blame Coco
'Destroy' by Robyn and Rankin - e-Bay Auction →
'Destroy'- original artwork created by Swedish singer/songwriter Robyn and world renowned photographer Rankin.  A rare one-off piece of original art to raise money for Youth Music.
350.org →
It was 2 help put focus on the the International day of climate action. A more important day than Christmas now a days. "On 24 October, people in 181 countries came together for the most widespread day of environmental action in the planet's history. At over 5200 events around the world, people gathered to call for strong action and bold leadership on the climate crisis."
Watch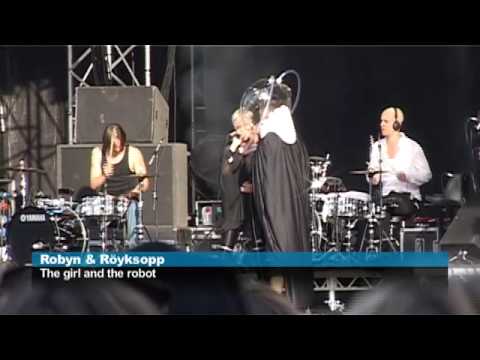 The Girl And The Robot - out today in the UK!
The Girl And The Robot, the second single to be taken from Junior, featuring Robyn on vocals, is out to buy today! The original mix is available alongside some great remixes from Kris Menace, Joakim, Spencer & Hill, Chateau Marmont, Ocelot and John Elan! Listen to all the mixes here. If you missed the video featuring Robyn (and Svein and Torbjorn for the first time!) you can check it out...
Robot Management Episode 4 feat. Robyn →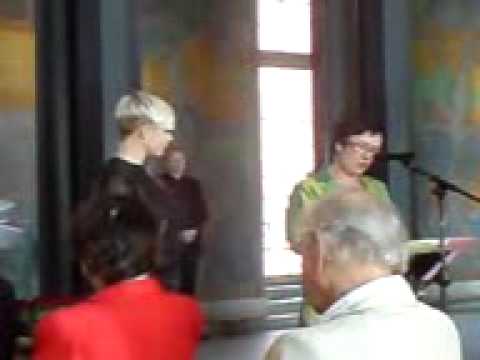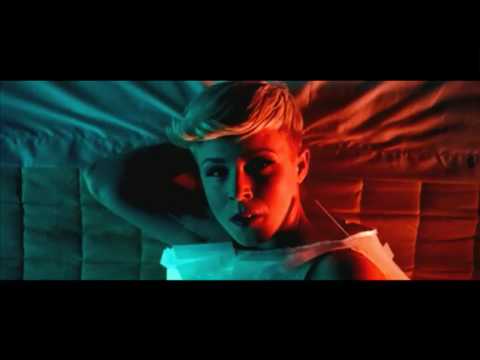 Watch
Robyn helps out the Daily Show!!
Place your bids now! →
Bid for autographed pictures taken by Robyn on her travels over the last year! All the proceeds will be going to Doctors Without Borders.
Follow Robyn on Twitter! →
Watch
Cobrastyle in Zurch!
Watch
Linda Öhrström who does my make up on the tour filmed this before we went on stage in Zurich.
Watch
Driving to the stage in Zurich
Watch
Harry Zurich introduction
Watch
Me and Harry watching the show in Berlin. Madonna really seems to have fun playing her guitar! Good for her!
Tickets for the Sticky & Sweet Tour →
Watch
Checking out the venue in Berlin - the old Olympic Stadium!
For every show there´s a new country...
…a new arena and a new dressing room. Each time we get there someone has put directions up on the walls so we know hoe´w to get there and in Berlin some one had also put a post it note saying: Support on the door of our dressing room, just in case we had forgotten.
Watch
Hanging out backstage with Tobias
Watch
Me and the band check out the first stage!
Watch
Introducing my stylist for the Madonna Tour - Scott!
Watch
Dressing the Keyboards!
Watch
Starting the Rehearals for Madonna Tour in Nice
1 tag